OVERVIEW
Form Follows Function (and Context!)
I am an interaction designer adept at eLearning, visual communication, and usability. I have over 18 years of experience creating successful customer-facing and internally-directed solutions in eLearning, blended learning, visual design, and web use strategies. In short, I am adept at the strategic use of functional design to address learning and business goals. I am at home on a design team, using project management methodologies for both understanding the larger initiative as well as defining tactical requirements. I respect and practice value-centered leadership: what one does and what one believes are the same thing. Clients have ranged from regional companies to the federal government to global enterprises.
My academic focus is on multicultural implications across the usability and eLearning fields--learning experiences in which technology empowers the user.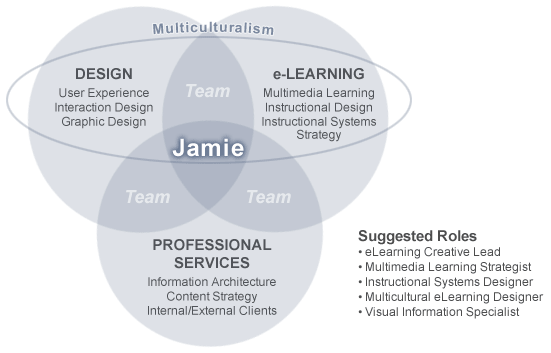 Combination of disciplines that form Jamie's unique integrated skill set.
Specialties - An Integrated Approach
eLearning, usability, interaction design,graphic design, instructional design, information architecture.
Experience
Employee Education System (EES) at the Department of Veterans Affairs, Ernst & Young, Perry Public Schools, Cleveland State University, marchFIRST (formerly Whittman-Hart).